Published on 12-11-2010 08:11 PM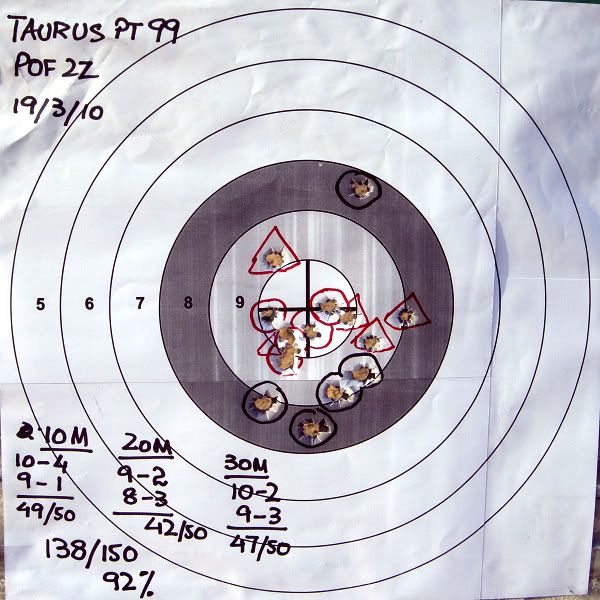 INTRODUCTION

While going through posts about different handgun, I always thought that in many cases, our opinions are biased about the handguns that we own or we have used. There is nothing wrong about it; it is but natural. However, at times the whole exercise of knowing about a weapon goes for a fix when someone doesn't like a comment or view on one of his favourite handgun. This ignites a futile discussion and the biggest sufferers are less experienced members who log on to this site for knowing authentic facts about the handguns they want to buy or use. The main reason for this is that most of us do not follow an objective method of reviewing a handgun and do not quantify our opinion. Comparative data is mostly not available and in the absence of objective facts and comparative data, the review mostly takes the shape of a personal opinion.

Now how to judge a weapon objectively. I have always believed that the final test of a weapon is its firing accuracy and reliability. If a weapon cant put the bullets at intended place and is prone to stoppages or is not rugged enough to bear the field conditions, its no good a weapon no matter what the brand or price. I AM SURE ALL WOULD APPRECIATE THAT ONE SHOULD NEVER COMPROMISE ON RELIABILITY. ON ACCURACY, ONE SHOULD AGAIN NEVER COMPROMISE UNLESS IT IS INTENDED TO KEEP A CONCEAL CARRY GUN. Even while buying a CC gun, one should keep in mind that it must meet 100% reliability and bare minimum accuracy requirements. Hence this thread.

In this thread, I would request everyone to post firing results of different handguns that we own or use. However, unless there are standard parameters to quantify the results, there is no use of such an exercise. I would therefore suggest a standard method which I have been following myself to check the accuracy of various handguns. This, by no means is a comprehensive method but a quick and economical one.. Any suggestions to improve this method (while still ...