AoA Everybody
At the risk of offending those who believe "desi" shotguns are nothing but absolute crap, shotguns manufactured by Daudsons Armoury Peshawar are famed for three things. Their quality, workmanship and totally missing an autoloader product line. Well...........That was yesterday. Letís review their latest offering, a 12 gauge autoloader shotgun.
In typical Daudsons tradition, the shotgun is made by using the best of materials and technology available in Pakistan. The CNC machined receiver is made using imported bar stock aircraft grade aluminum alloy. The barrel is made out of imported 4140 Chrome-Moly Steel bar stock. The wooden furniture is carved out of hand picked/selected walnut after evaluating grain, quality and density of wood by master gunsmiths at DSA. Another thing worth mentioning here is that this time they have incorporated flush mounted screw-in chokes into the design to increase the versatility of the shotgun.
Mr. Nooruddin, the managing director of DSA called me up a few days back to give me the news of their new offering and to enlighten me on some of its salient features. Since most of you guys know me and my high-on-the-demand-side-personality when it comes to shotguns, I immediately requested some additions/customizations. To be honest, I basically asked too much from DSA. Being the kind gentleman that Mr. Nooruddin is, he immediately reworked the design and obliged me with a shotgun that is truly made as my specifications within days. Yesterday, I collected the "Pakguns Review Piece" from DSA Peshawar.
Specifications:
Gauge: 12 Gauge
Type: Gas Operated Auto-loading Repeater aka Autoloader (or Semi auto)
Barrel Length: 26 Inches
Barrel Material: 4140 Chrome-Moly Steel
Magazine Capacity: 4+1
Chokes: 3 flush screw-in type chokes (IC, M, F)
Furniture: Wood (select walnut with hand rubbed oil finish)
Safety location: Behind the trigger guard
Finish: Barrel = nice deep blue, Receiver = Powder coated
Sights: brass front bead, Receiver dovetailed for scope mount
Slug firing Capability: Yes!
Price: PKR 27,000 with single barrel and wood furniture (without hard carry case).
Other Options available to customers:
1. 28inch barrel length with screw-in chokes (PKR 5200)
2. 21inch barrel length, cylinder bore and rifle sights for a dedicated smooth bore slug gun
3. Complete plastic furniture. Buttstock and forend
4. pistol grips, incase somebody wants to convert their shotgun into ďI donít know what purpose gunĒ
5. Beautiful hard carry case with dual combination lock. Designed and manufactured at DSA. Accommodates, shotgun with all accessories and extra barrel. (PKR 3500)
Now the Eye Candy:
courtesy of Rotorcrafts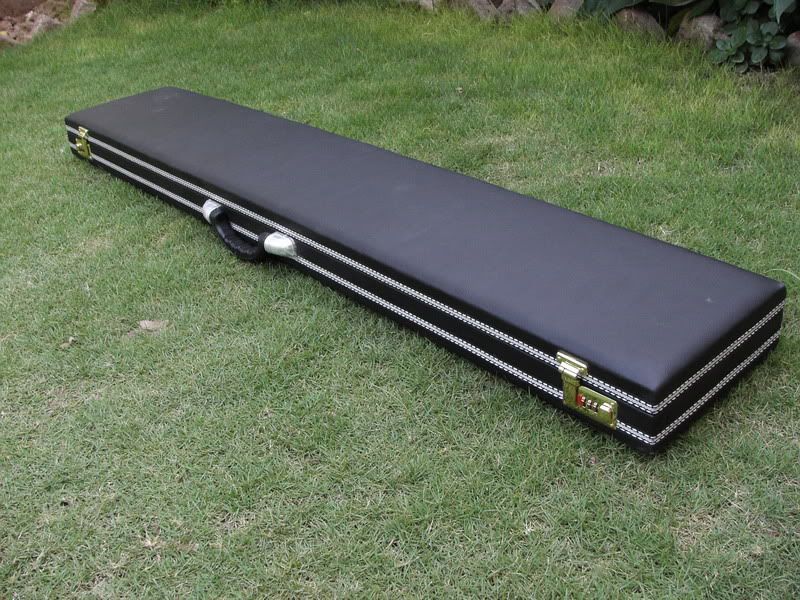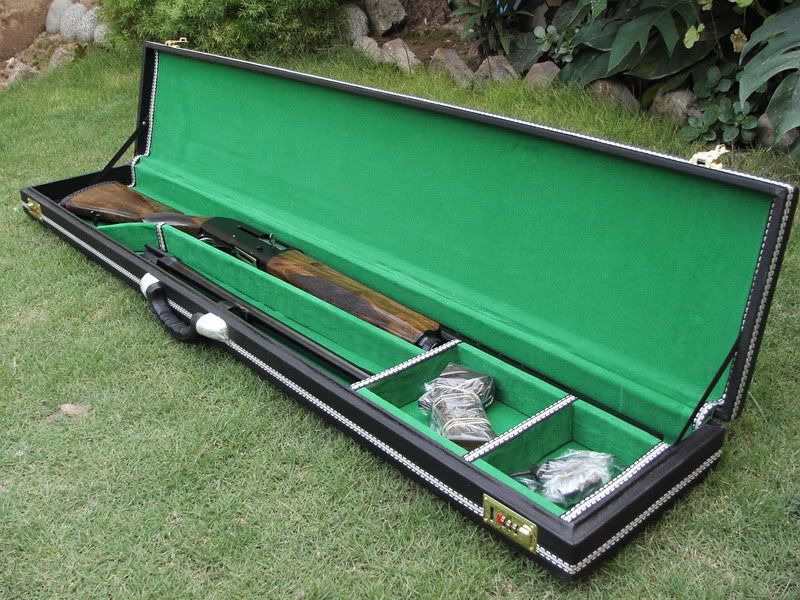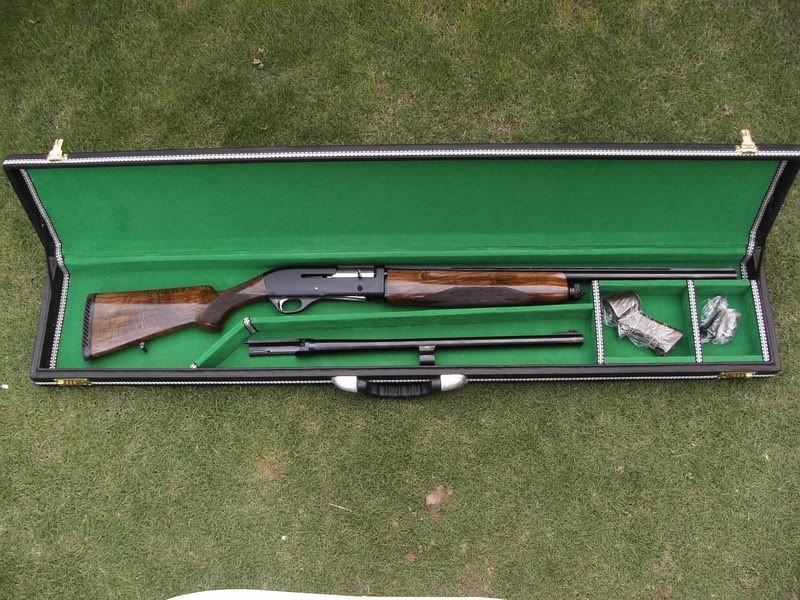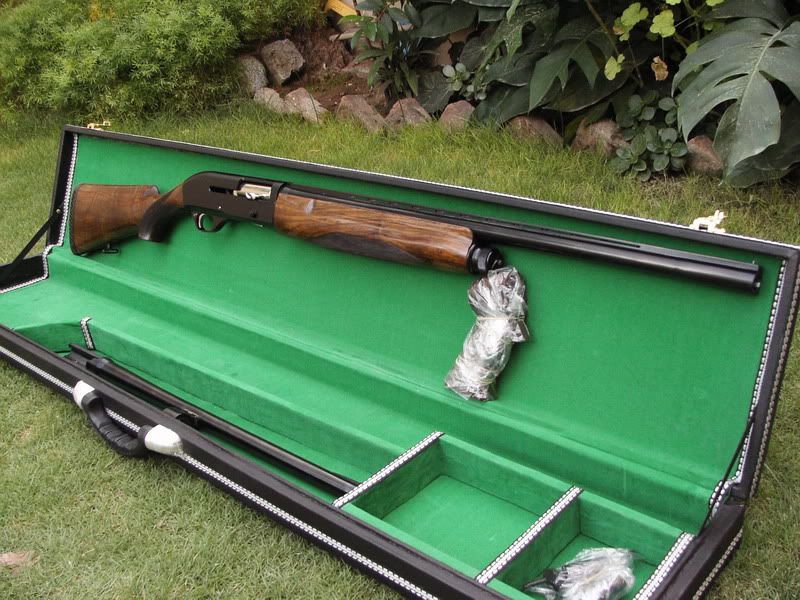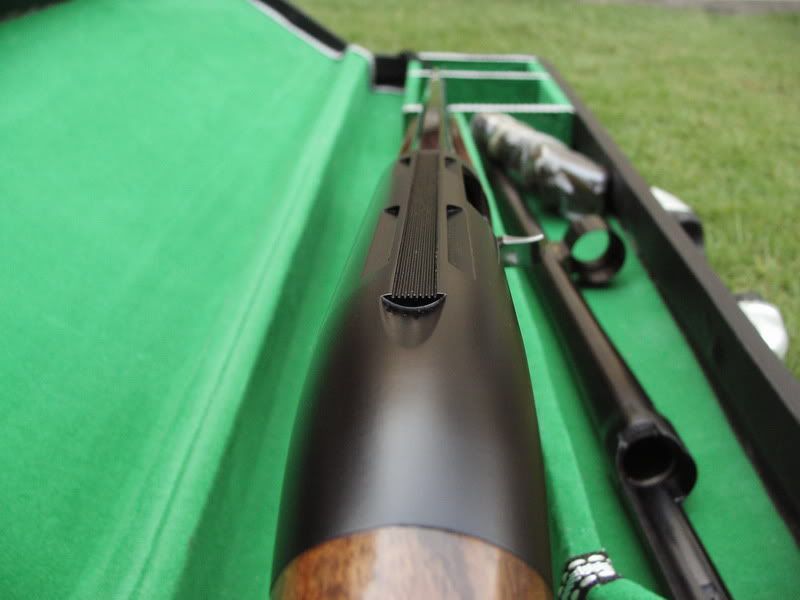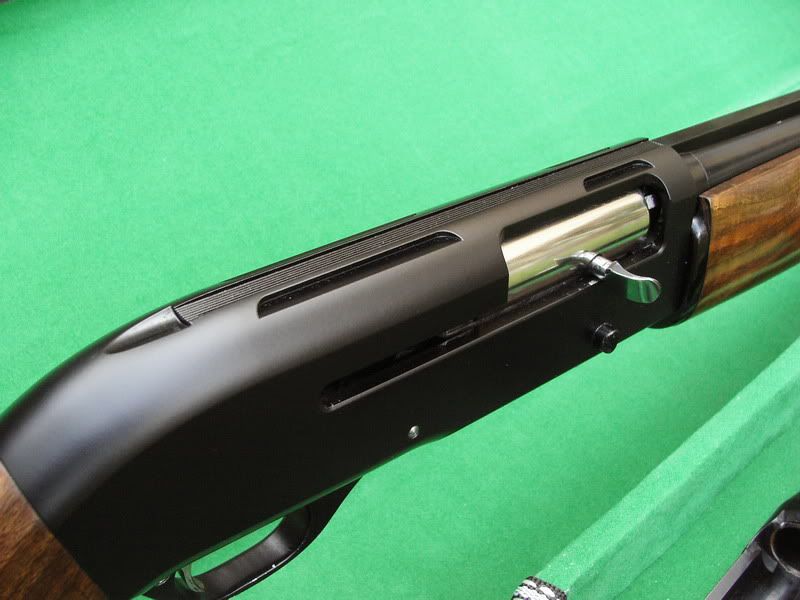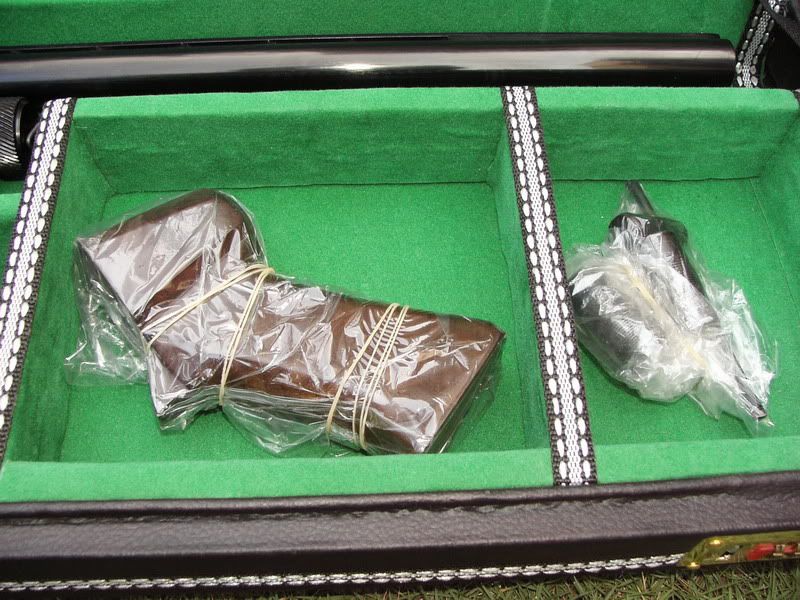 IMPRESSIONS
The moment I picked up the gun, the weight seemed on the higher side but it is suitably balanced. I am guessing, the culprit is the weighty furniture and a lot can be achieved by simply toning/slimming down the wood a bit. The mount was as good as any Russian/Turkish shotgun. Wood to metal fitting is first class. I can see meticulous attention to detail given by the manufacturer in this regard. There is no rattling if you tighten the forend screw all the way. It might require a tool to open it back up afterwards though. The rubber butt pad is nice and mushy. Just the way I like it. Not too soft and not too hard. The wood has a pleasing grain and finish. Typical of a hand rubbed oil finish that is instantly recognizable. Warm and smooth to touch, reminds me of few things that I should refrain myself from mentioning here. The checkering is deep and impressive.
The Barrel, Receiver and Internals:
The barrel is finished in a very nice deep blue (glossy). The bolt handle, bolt, cartridge elevator and trigger are finished in bright chrome. The aluminum receiver is powder coated with extremely uniform finish with no flaws what so ever.
The bolt is impressively machined. No flaws whatsoever. The bolt slides in the receiver pretty smoothly and the return speed is as good as it gets with positive locking. I can see that the shotgun is provided with massive extractors, another plus in my opinion. There is no rattling of the forend when the bolt locks in place or when it slams back into the chamber.
The receiver is well machined (CNC). Free of any flaws even though it is provided with dovetails which complicates the design, hats off to DSA for pulling this off and providing this wonderful feature. The barrel to receiver lockup is superb. The rib is centered and runs straight to the muzzle.
The action bars are also nicely machined. No tooling marks, burrs or anything like that. Each and every part is firmly locked into place with no rattling (an indication of loose tolerances) of any kind.
The Trigger:
The trigger is good enough. I did notice a little bit of creep (nothing out of the ordinary) which I am expecting will improve with use. The trigger breaks cleanly with no over travel. The trigger pull is heavy but not by much. No need for a trigger job as it will eventually lighten up with use. Plus the gun isnít what you would call ďthoroughly cleanedĒ so itís partially my fault. I should have cleaned all internals before judging anything. Hey! Iím lazy alright! Besides, hard work is great as long as somebody else is doing it.
The Math Work:
1. Weight: 8.8lbs (told you itís on a heavier side)
2. Rib Width: 8mm
3. Trigger Pull: 8.8lbs (do not compare with handgun trigger pulls)
4. Trigger Post-Travel: 0mm (Perfecto!)
5. Trigger Pre-Travel: 3mm
6. Balance Point: right under the bolt handle
7. Cylinder Bore Dia: 18mm or 0.709inch
8. Choke Dia: IC=17.75mm, M=17.5, F=17.25mm
9. Choke Length: 1.75inches
If I could, I would: (At the moment)
1. lighten the gun up by probably shaving some of the excess wood, also bring the balance point a little towards the muzzle. preferably at barrel/receiver joint.
2. work a little on the trigger if i cannot wait otherwise it will get better on its own with use
eventually.
3. smoothen out the forend screw cause its a pain to take off once fully tighten.
4. work a little on the safety cause its pretty hard to engage and disengage. after playing with it a couple of times, I am expecting that will eventually become soft as per my liking.
5. clean the heck out of the gun. its basically my fault I should removed all the preservative treatment before show casing the gun.
Conclusion:
All in all a good shotgun that without a shadow of a doubt deserves praise. From purely manufacturing standpoint, I can see that the manufacturer has left no stone unturned (while keeping the cost factor in check) in ensuring the quality that has always been the hallmark of Daudsons Armoury Peshawar.
A little "Gun Porn" is in order I believe:
Kindly excuse my bad photography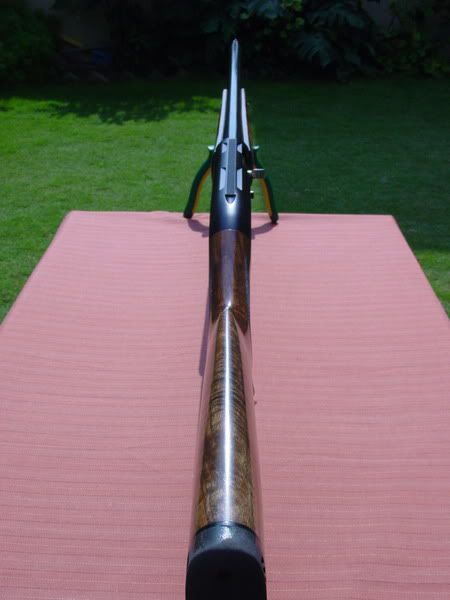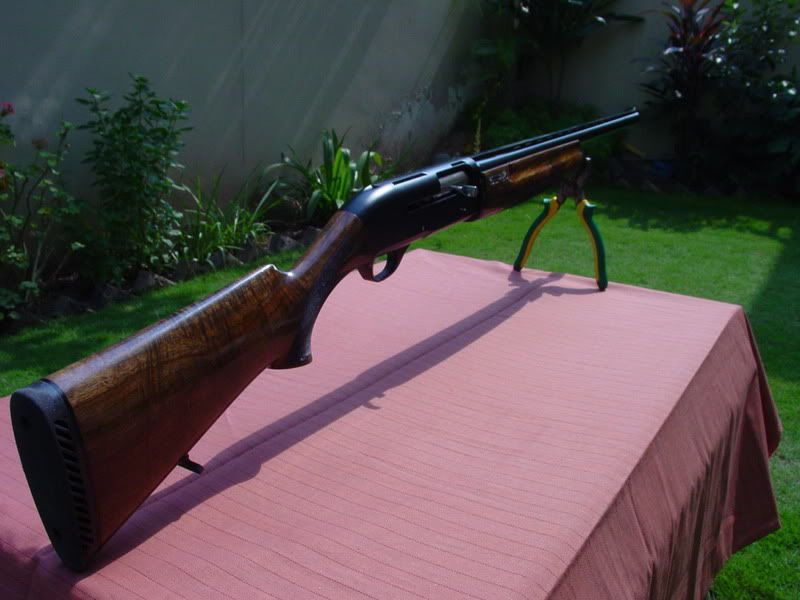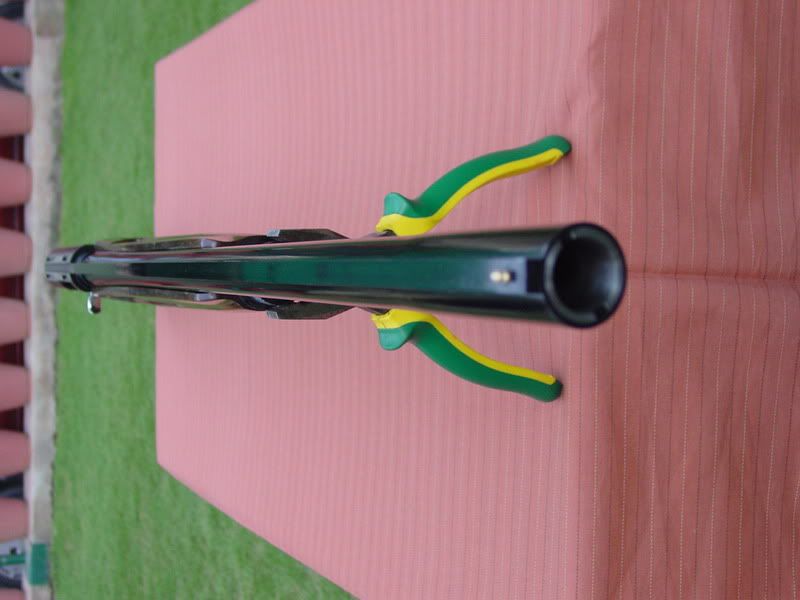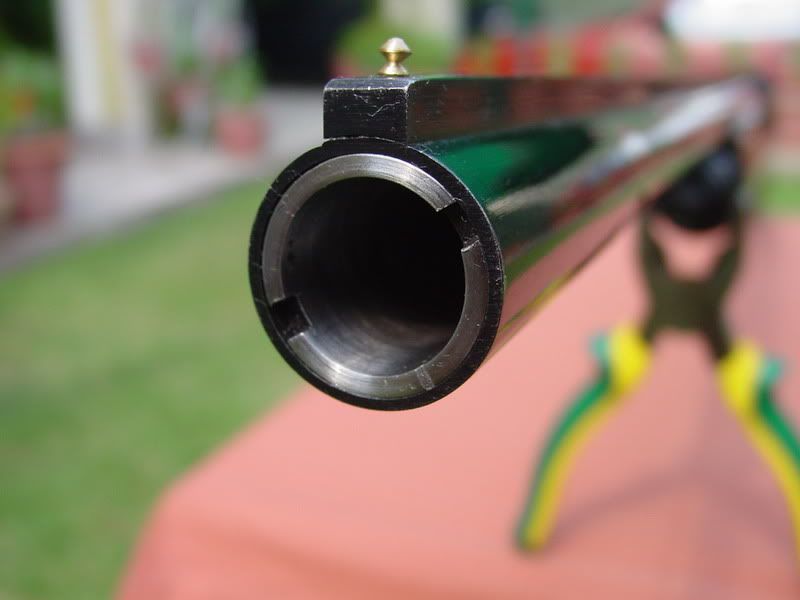 This picture illustrates the wood to metal fit: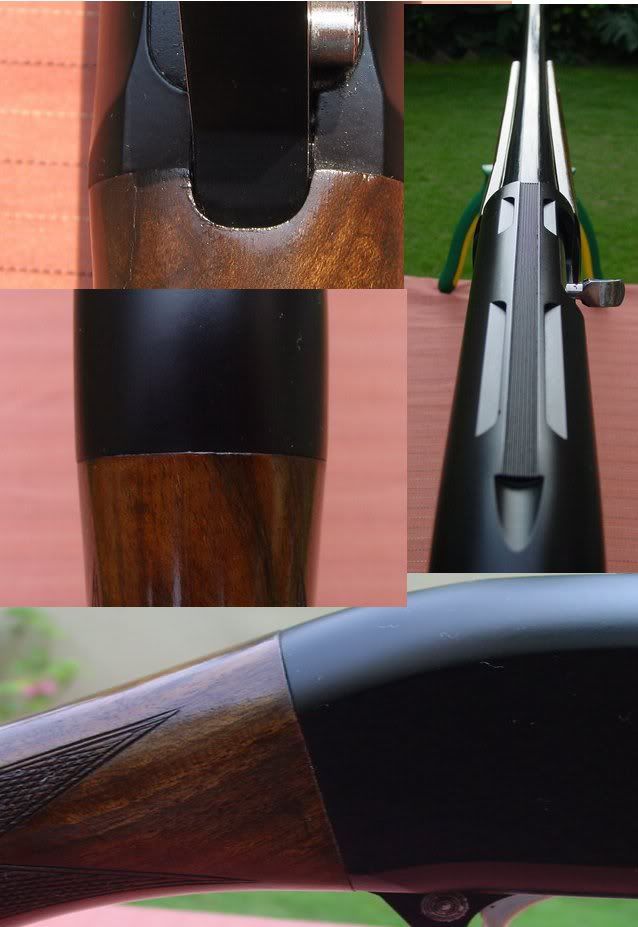 The bolt: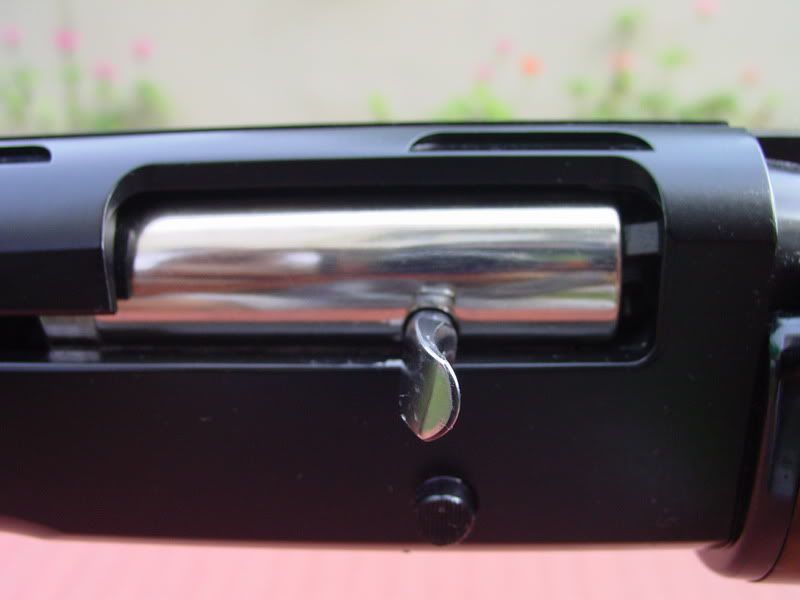 Now something special:
Bottom of the forend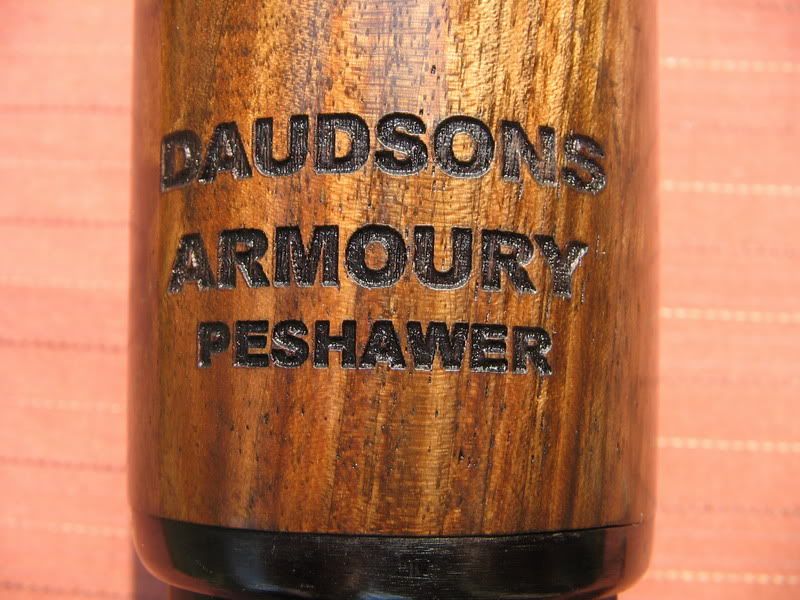 Right side of the forend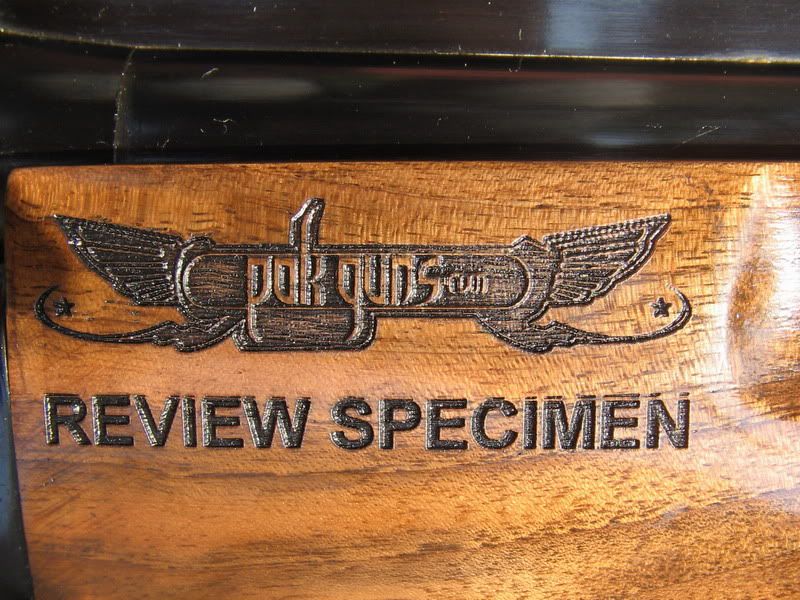 Left side of the forend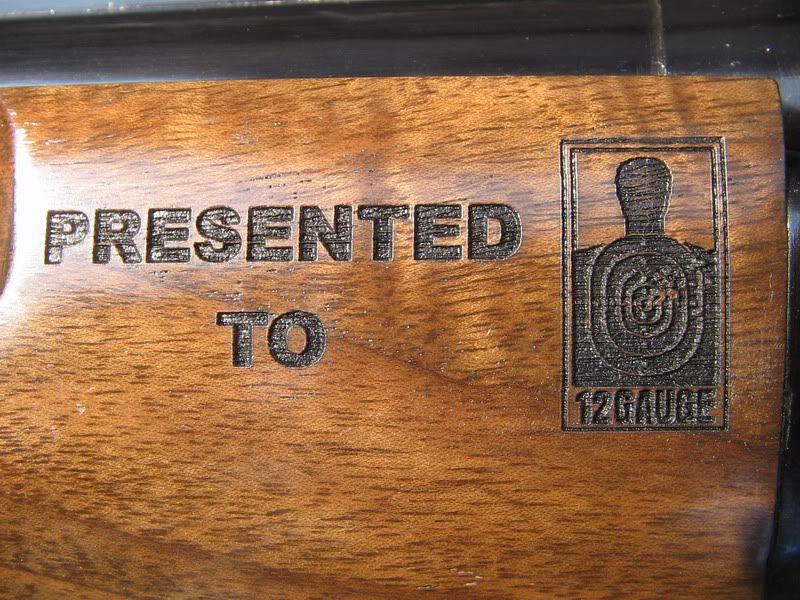 ************************* INTERNALS*************************

AoA Everybody

I can talk for hours on the machining/finishing quality of the internals but as the saying goes "a picture is worth a thousand words", its only appropriate that I post some pictures instead.

Here goes nothing cause pictures taken by me, are at best total crap. Kindly accept my apologies for the eye strain that you guys might suffer in the process.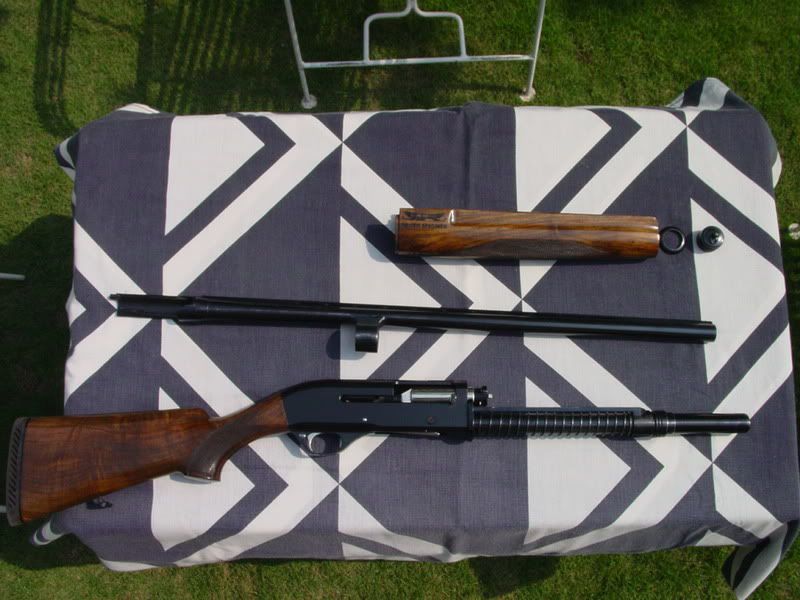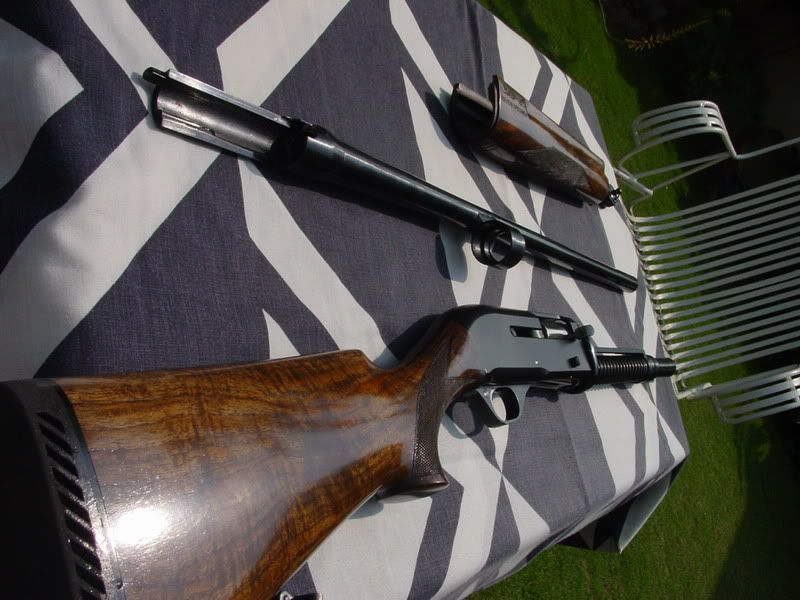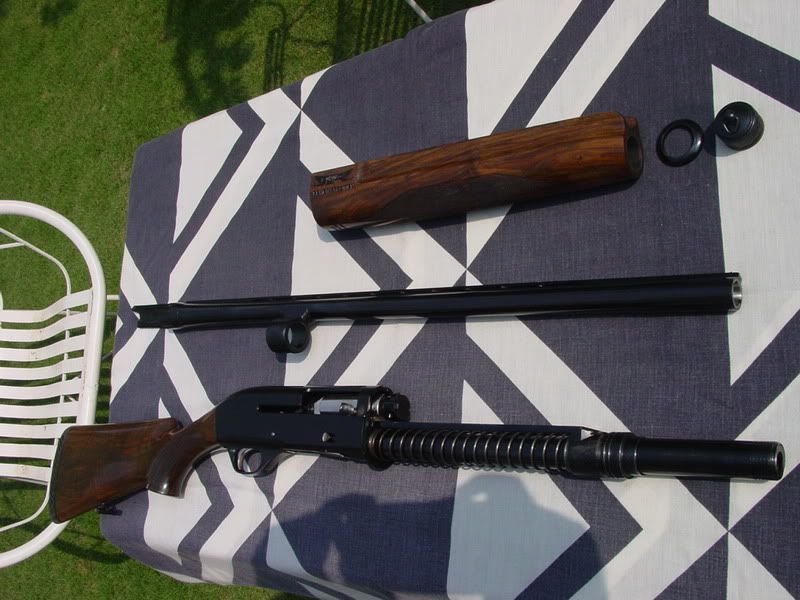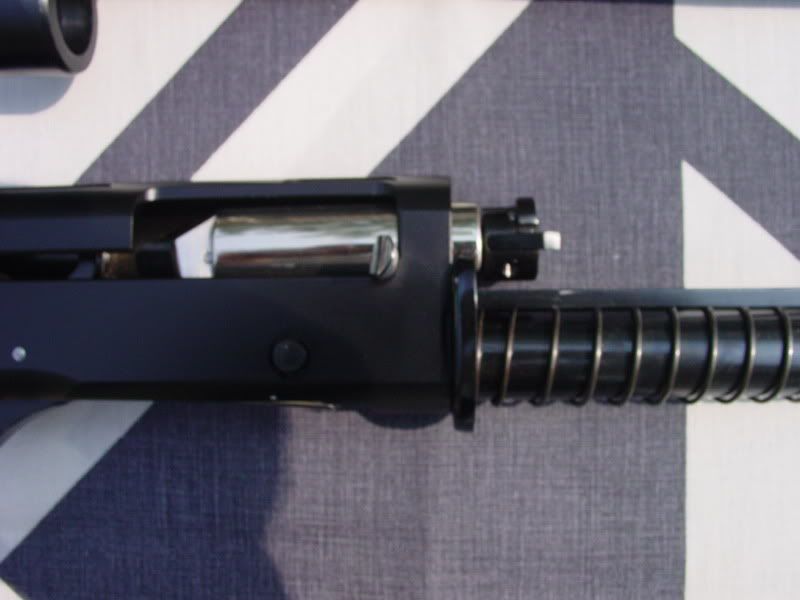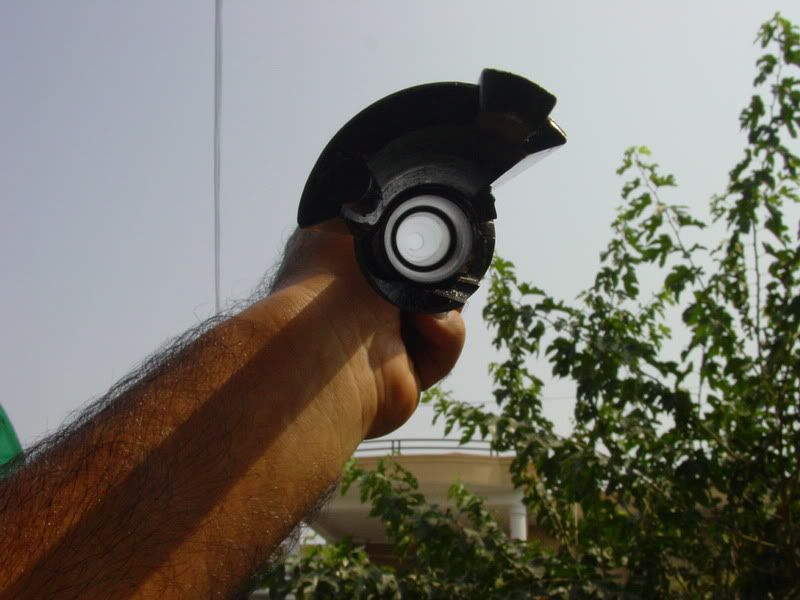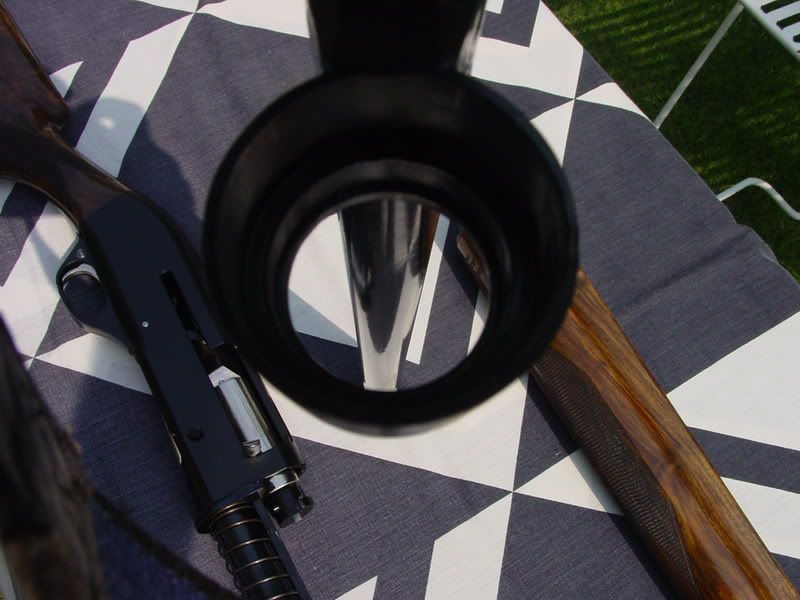 Range Review
Just got back home from the range where DSA's autoloader shotgun was reviewed by me and three other esteemed PG members. me, AK47 Bhai, Apolo and 7mm put the new offering of Daudsons Armoury through its paces. to be honest, the gun is every bit a DSA product. high quality, finish and reliability. it digested a multitude of game and target load with ease, phenomenal reliability and performance, exceptional cycling and superb patterning on paper.
here are the results: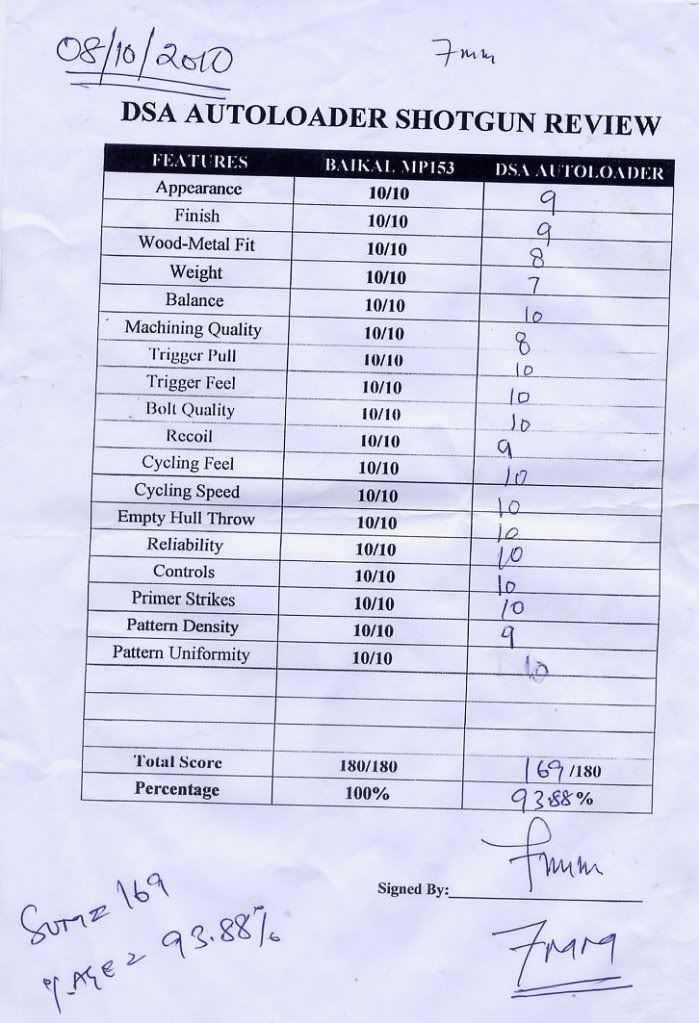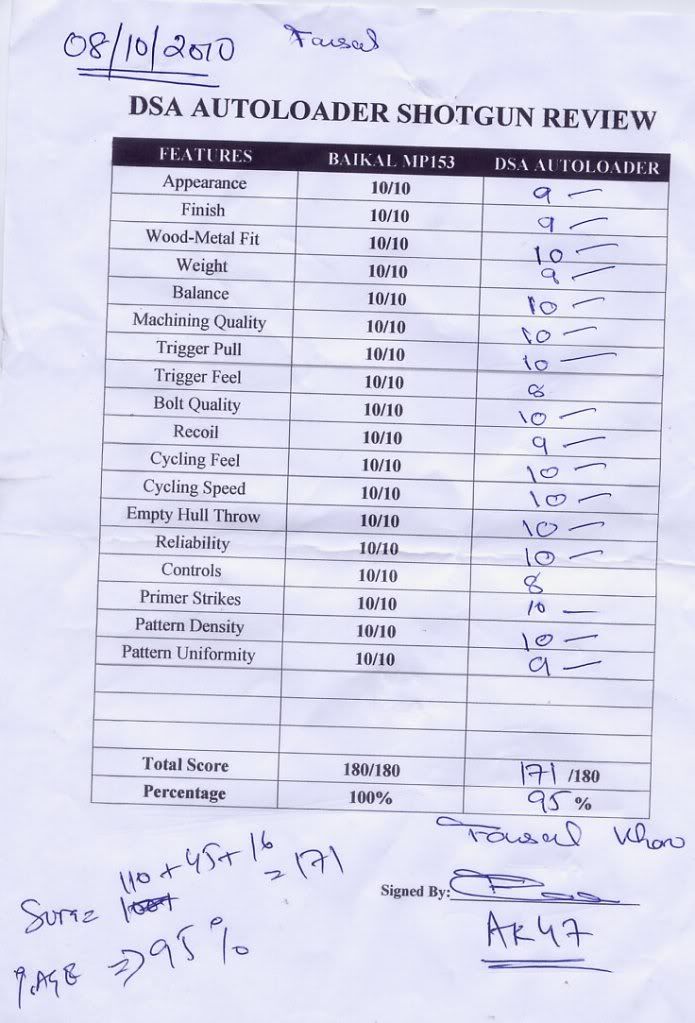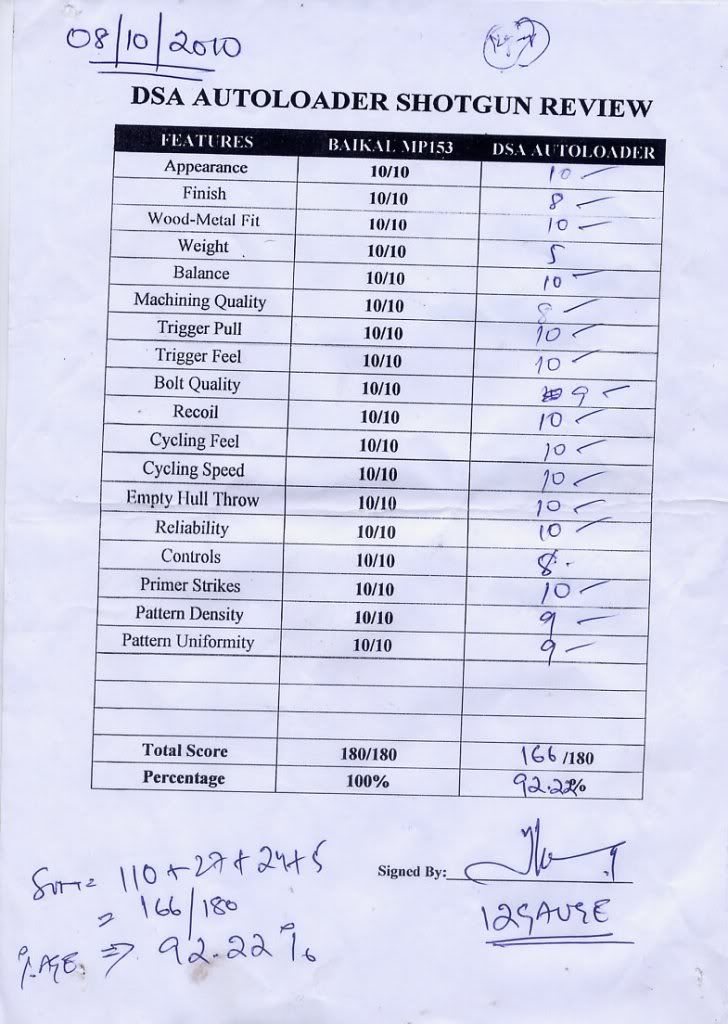 FINAL RESULT:
Average Score: 166/180 + 169/180 + 133/160 + 171/180 = 639/700 =
91.29%
Interpretations (with Assumptions=Baikal MP153 =50K and DSA Autoloader=27K)
1. DSA Autoloader shotgun is equal to 91.29% of a Baikal MP153 shotgun whereas it is at 54% with respect to price.
2. Moving up from DSA Autoloader shotgun to Baikal MP153 would cause an enhancement in performance of only 9.54% whereas would require a additional funding of 85%.
3. Moving down from Baikal MP153 Shotgun to DSA Autoloader would generating savings of 46% but would cause the performance to fall only by 8.71%

Regards.
p.s. I would like to thank Apolo for driving all the way to WAH from Jehlum for this test and going through all the trouble in the process and AK47 bhai for his generous hospitality and wonderful Tea. I'm afraid I might have to give his generosity another buzz pretty soon.